It's no surprise when a Hollywood actor, a famous musician or a star athlete gets busted for marijuana; such is considered an indulgence for the wealthy, who can afford not just the ganja itself but the associated penalties for getting caught. When a government official, on the other hand, gets caught using cannabis, it sends a completely different message to the public. These are the people who are responsible for making the laws that control illegal substances, so it would amount to the height of hypocrisy. And it happens more than you think.
What's The Meaning Of The Word 'Detest'?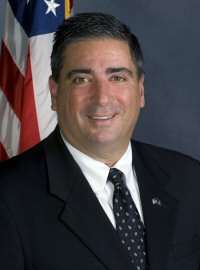 Last November, for instance, Pennsylvania State Rep. Paul Costa (34th District) was cited by an undercover officer for smoking a joint with another man at a tailgate party prior to a Pittsburgh Steelers football game. Costa's attorney, Phil DiLucente, took a see-no-evil approach, saying the Congressman "adamantly denies that he smoked any marijuana. No narcotics of any kind were found on him. In fact, he detests marijuana." Maybe he does, but his buddy doesn't; more marijuana was found in the vehicle belonging to the other guy.
Busted At The Airport
Then there's E. Shirley Baca, a New Mexico Public Regulation Commissioner, who got caught at the Albuquerque airport with a pipe (already loaded with pot) in her checked luggage. They were screening the bag for explosives at the time of the discovery. Baca would have faced less scrutiny had she not gone on a bombastic rant about substance abuse after her chief of staff was arrested for drunk driving in 2003.
One U.S. Congressman, Randy 'Duke' Cunningham, once recommended death sentences for drug kingpins.
That was before his son, Randall, was convicted of possessing more than 400 pounds of marijuana (he later tested positive for cocaine as well). When it came to his own kin, the elder Cunningham sang a more conciliatory tune in court, saying his son "has a good heart. He works hard. He's expressed to me he wants to go back to school." Duke Cunningham has his own problems now, having been sent to prison on federal bribery charges.