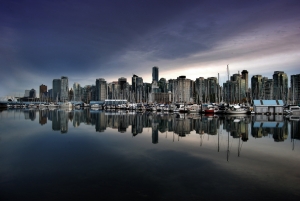 Vancouver British Columbia is a beautiful city that's known for it's art, delicious food, skiing and culture. There are many things to see and do in Vancouver for just about anyone including people who enjoy a little or a lot marijuana every now and then. Vancouver is the most 'pot friendly" town in Canada and you can carry small amounts of marijuana with without fear of getting stopped by the police.
How To Enjoy Weed In Vancouver
Even though it's still illegal to posses any small amount of Marijuana in Canada you won't get hassled by the police in Vancouver or charged if you're caught with a small amount of pot (7 grams or less). It's also illegal to smoke indoors in Vancouver so if you get the urge to smoke a little pot while you're there it's best to smoke outdoors or in a pot café. Many pot cafes in Vancouver offer smoking rooms where you can indulge a little without the fear of breaking any laws. One of the best places to smoke in Vancouver is the New Amsterdam Café. Here you can smoke a little, find some good munchies or just hang out and get a nice buzz from the mix of different varieties and blends in the air.
Pot Friendly Things To Do
If you're searching for unique things to see and do while in Vancouver why not take a pot tour? There are many tours available for people who enjoy marijuana and want to see the finer points of the city like the "Pot Block" or enjoy smoking in a relaxed setting at one of the many pot parties that are held on weekends in Vancouver. Tour prices tend to run between $150.00 to $250.00, last around 2 hours and are a great way to connect with the locals and enjoy all of the pot destinations that Vancouver has to offer.